From the enthusiasm for Lego Technic to the GoKart kit

kiks-racing.com/en
When I got my first Lego Technic kit as a child, I was immediately thrilled. The many small parts and the possibility to build really cool things with them – that fascinated me. Here you can read all about my enthusiasm for Lego Technic and how we implemented this idea with our Kiks-eRacer K1 GoKart.
What fascinates us about Lego Technic?
There is something very special about growing up with Lego Technic and then deciding to plan your own GoKart kit. For us, it's not just about learning how to simply assemble the parts, but more about the creativity and commitment you put into building your go-kart. It's fascinating how our components can be turned into something so complex and functional.
When you choose our GoKart kit, you get that Lego Technic feel right away. If you decide to build things yourself, you have the opportunity to let your creativity run wild and implement your ideas.
You get to know many new things and gain experience. This is especially useful for children and teenagers, as they improve their motor skills and learn how to handle your first own vehicle. But also for adults, building with our Kiks-eRacer K1 GoKart is a great leisure activity where you can switch off and leave the hustle and bustle of everyday life behind.
However, building the go-kart becomes a special experience as a joint parent-child project.
How did we get the idea to build a GoKart?
It all started with an idea and a great enthusiasm for Lego Technic. We wanted to create something that didn't exist before – a hybrid GoKart as a DIY kit! So we set to work and developed our first prototype. It was a huge success and so we came up with the idea of developing a kit for other children and adults so that they too could build their own GoKart.
Today we are proud to have released our first kit. We hope that many people will enjoy it and that they too will soon be able to build their own hybrid GoKart!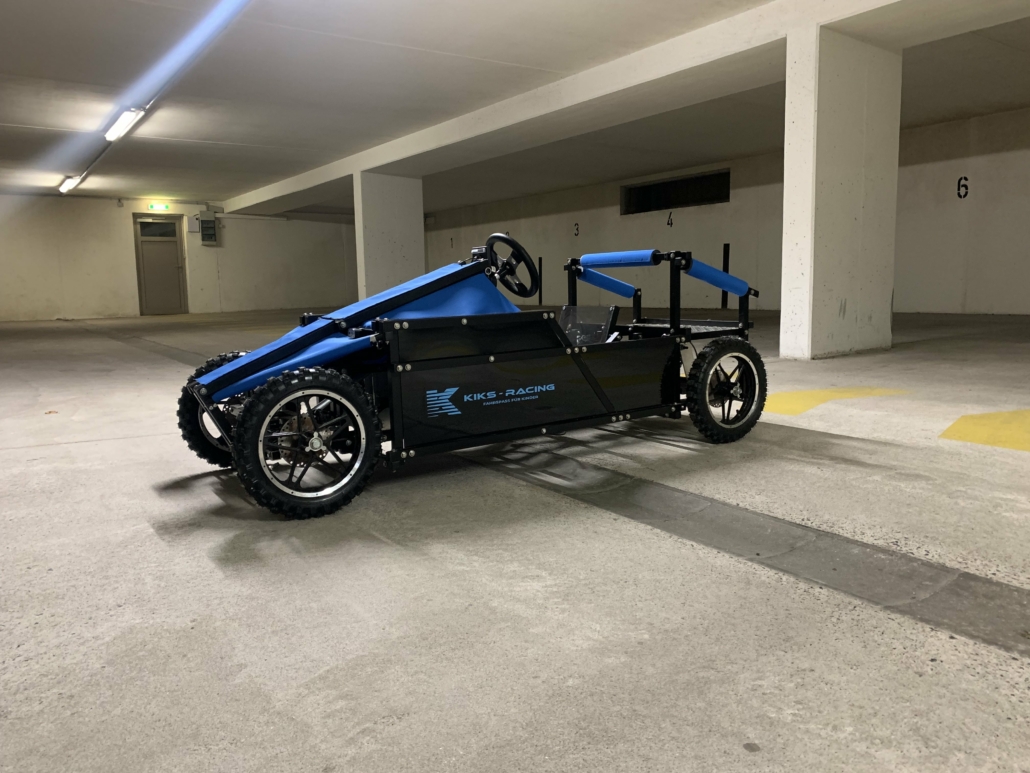 What challenges did we have to overcome in creating the GoKarts kit?
Developing a GoKarts kit was no easy task. We had to bring together many different components and make sure they all worked perfectly together and were also streetable.
First of all, we had to develop a frame strong enough to support the engine and all the other components. This was no easy task, as we wanted to develop a very lightweight frame that was still strong enough.
Another important aspect was choosing the right tires. We wanted tires that were light and strong at the same time. Finally, we had to make sure that all components harmonized perfectly with each other. To do this, safety was our top priority when we designed our kit.
This was not an easy task, but we worked hard on it and in the end we had a perfect go-kart kit – the Kiks-eRacer K1!
How does it feel to drive my homemade go-kart?
It's an incredibly satisfying and exciting feeling to drive my homemade go-kart! It's amazing what you can build yourself with a little creativity and technical skill. Above all, the team feeling of having created something together is overwhelming.
Children understand the interrelationships of the construction and can thus take care of the care and maintenance of the hybrid GoKarts themselves. We are absolutely thrilled and can hardly describe the incredible driving fun our vehicle brings.
You are welcome to see for yourself – drop by our shop.
https://kiks-racing.com/en/wp-content/uploads/sites/4/2022/11/IMG_2491-min-scaled.jpg
1920
2560
Micha
https://kiks-racing.com/en/wp-content/uploads/sites/4/2022/10/kiks-racing-logo-long-300x54.webp
Micha
2022-11-09 06:16:43
2022-11-09 06:18:00
From the enthusiasm for Lego Technic to the GoKart kit